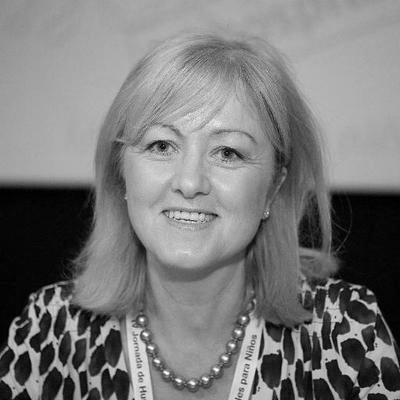 Prof Imelda Coyne
Professor of Children's Nursing

Co-Director of Trinity Research in Childhood Centre (TRiCC)
Biography
Professor Imelda Coyne is a Professor in Children's Nursing & Co-Director of the Trinity Research in Childhood Centre (TRiCC). She is a Fellow of American Academy of Nursing (FAAN), Fellow of Trinity College Dublin (FTCD) and a Fellow of the European Academy of Nursing Science (FEANS).
Prof. Coyne's research focuses on children's participation rights, child and family-centred care, shared decision-making, technological interventions for chronic illness management and transition from child to adult healthcare services. She has published widely and delivered international workshops and keynote addresses at several national and international scientific conferences. Her journal articles span many top-ranking journals in her own discipline and in interdisciplinary journals, indicative of the broad intellectual scope and appeal of her work.
As a member of the Thematic Policy Group 'Children's voices will be heard' and Ambassador for Children's Participation Hub, Department of Children and Youth Affairs, Prof. Coyne continually promotes the importance of children's participation and voices in policies that affect children's lives.
In 2017, Prof. Coyne led the consultation with young children aged 3-5 years to inform the Irish Government national strategy 'First 5 Early Years' First 5: A National Consultation with Young Children on A Whole-of-Government Strategy for Babies, Young Children and their Families (tcd.ie).
In 2011, Prof. Coyne led the nationwide consultation with children and young people to inform the Irish Government children's policy framework 'Better Outcomes, Brighter Futures' https://www.gov.ie/en/publication/5a6f53-life-as-a-child-and-young-person-in-ireland-report-of-a-national-con/
Prof. Coyne played an important role in the development of Children and Clinical Research Ethical Guidelines, (2015) Nuffield Council of Bioethics which provides detailed guidance on how children can be included in all research. The executive summary, magazine version and animation have been translated into Spanish, Arabic and Mandarin https://www.nuffieldbioethics.org/publications/children-and-clinical-research/developments-since-launch .
Her research on transition practices has led to the creation of a dedicated free eHealth resources (www.SteppingUp.ie) to prepare youth for transition which has won awards for co-design and best hospital project for youth with chronic conditions and development of a national policy on transition.
Prof. Coyne is passionate about the inclusion of children and families in research (Patient and Public involvement) and has published a text on using participatory methodologies to research with children and young people https://link.springer.com/book/10.1007/978-3-319-71228-4. As a  member of the Public and Patient Involvement (PPI) Advisory Group UK, she guided the development of the Theatre of Debate production 'People Are Messy' to explain to children and youth in schools on how they can participate in clinical research/trials https://theatreofdebate.co.uk/project/people-are-messy-preview/.
Publications
Chapter 7: Children and adolescents' participation in information-sharing and healthcare decision-making.
Coyne I & Martins A, (2022), Child and Youth Participation in Policy, Practice and Research [editors Deirdre Horgan and Danielle Keenan] First Edition. Routledge: Abingdon Oxon. p103-116 DOI:10.4324/9781003099529-10
Developing a video intervention to improve youth question-asking and provider education during paediatric diabetes clinic encounters: The Promoting Adolescents Communication and Engagement study.
Pembroke S, Roche E, Sleath B, Brenner M, Hillard C, Cody D, Coyne I (2020). Patient Education and Counseling. September 104(9) 2170-2176  DOI:10.1016/j.pec.2021.02.021
Coyne I, Mallon D & Chubb E (2021). Research with young children: exploring the methodological advantages and challenges of using hand puppets and draw and tell. Children & Society. September 35(5), 813-830 https://doi.org/10.1111/chso.12452