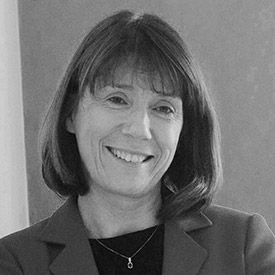 Prof Geraldine Boylan
Lead of in4kids

Director of the INFANT research centre 

Professor of Neonatal Physiology at University College Cork
Biography
Prof. Boylan has a strong track record in clinical neurophysiology.
Since 1996, she has worked exclusively in the field of neonatal neurophysiology.
She is a Science Foundation Ireland and Wellcome Trust funded Principal Investigator.
In INFANT, Geraldine leads the thematic research areas related to the neonatal brain. Geraldine's group comprise a multidisciplinary research team with an international reputation in the area of neurological monitoring in the neonatal intensive care unit, particularly in seizure detection and early diagnosis of brain injury.
Prof Boylan's group are developing automated algorithms for monitoring brain activity and remote monitoring tools for physiological data acquisition in the neonatal intensive care unit.
One such innovation, an automated seizure detection algorithm for newborn babies, is the focus of a large multicentre trial ANSeR funded by a Strategic Translational Award from the Wellcome Trust and led by INFANT. Geraldine is co-coordinator of the FP7 funded NEMO study, Europe's first multicentred dose finding and safety study of Bumetanide for the treatment of seizures in newborn babies.
Publications
A machine-learning algorithm for neonatal seizure recognition: a multicentre, randomised, controlled trial.
The Lancet Child & Adolescent Health. Volume 4, Issue 10, October 2020, Pages 740-749 DOI: 10.1016/S2352-4642(20)30239-X
Two-Year Neurodevelopmental Outcomes After Mild Hypoxic Ischemic Encephalopathy in the Era of Therapeutic Hypothermia.
JAMA Pediatr. 2020 Jan 1;174(1):48-55. doi: 10.1001/jamapediatrics.2019.4011.