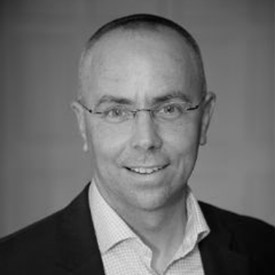 Prof Paul McNally
Director of Research & Innovation at Children's Health Ireland (CHI)
Associate Professor of Paediatrics
Biography
Prof McNally graduated from the UCD School of Medicine in 1998. He completed his postgraduate paediatric training in Ireland and subsequently an MD in Cystic Fibrosis (CF) lung disease in the RCSI. Paul undertook pulmonology fellowship training in the Children's Hospital of Philadelphia from 2007 to 2009. He was appointed as a consultant in Paediatric Respiratory Medicine at Children's Health Ireland in 2009. In August 2015, Paul was appointed as Associate Professor of Paediatrics at RCSI.
Paul is a member of the working group of the National Clinical Programme for Cystic Fibrosis and is a board member of Beaumont Hospital in Dublin and the CF Registry of Ireland.
Paul's main research interests are in is early Cystic Fibrosis lung disease and the real world outcomes of CFTR modulator drugs. He has been a PI on more than 20 industry trials of CTIMP at CHI. He is currently leading an 8 centre phase 4 investigator led trial (NCT04602468) examining the real world impact of novel CFTR modulators in people with cystic fibrosis.
Publications
Lower Airway Infection in Preschool Children with Cystic Fibrosis: An International Comparison.
Hulme KM, Linnane B, McNally P. Am J Respir Crit Care Med. 2020 Mar 15;201(6):748-750. doi: 10.1164/rccm.201910-2064LE. PMID: 31769996; PMCID: PMC7068839.
Pooling of bronchoalveolar lavage in children with cystic fibrosis does not adversely affect the microbiological yield or sensitivity in detecting pulmonary inflammation.
McNally P, O'Rourke J, Fantino E, Chacko A, Pabary R, Turnbull A, Grant T, O'Sullivan N, Wainwright C, Linnane B, Davies JC, Sly PD. J Cyst Fibros. 2018 May;17(3):391-399. doi: 10.1016/j.jcf.2017.10.016. Epub 2017 Nov 20. PMID: 29157921.